Google je toliko ojačao, da je postao sinonim za internet. Sa širokom upotrebom Chrome browsera (u Srbiji oko 68% ga koristi kao primarni) i kucanjem ključnih reči za pretragu direktno u URL polje, mnogi korisnici nisu ni svesni da pretražuju samo Google, već su mišljenja da pretražuju ceo internet. Što danas, i nije velika razlika, uzgred budi rečeno.
SEO optimizacija (da, jeste pleonazam jer je optimizacija to O u skraćenici SEO) se takođe odomaćila kao ternim, iako je to u velikom broju slučajeva optimizacija sajtova za Google, a ne optimizacija za pretraživače.
No, da se vratim na temu – da li je prvi na Google isto što i biti prvi na internetu? Ili je to biti prvi na Fejsbuku? Evo koji procenat ukupnog internet saobraćaja odlazi na koji sajt. Podaci su za Srbiju, za januar 2018. godine.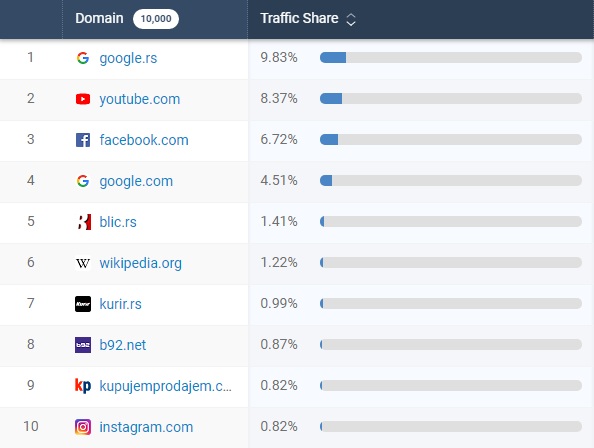 Google.rs i Google.com zajedno imaju više od 13% saobraćaja. Što jeste najveći deo kolača. Google, Youtube i Facebook drže skoro 30% internet saobraćaja kod nas. Dakle, prvi na ova 3 sajta, skoro pa isto kao biti prvi na internetu. Naročito uzimajući u obzir da su ostali igrači uglavnom informativni sajtovi ili sajtovi nekog drugog tipa a ne pretraživači (Blic, Kurir, B92, …).
Kada je reč o pretraživačima, iza Gugla su Eon, Krstarica, Myway. Tu su i Yahoo i Bing, koje Similarweb nije svrstao u kategoriju pretraživača već portala, ali svejedno, njihov udeo jeste dosta mali (Yahoo 0.82% a Bing manje od 0.1%).